Music lessons with me come in many forms…
The duration and regularity of sessions, and the styles of teaching, depend on your needs…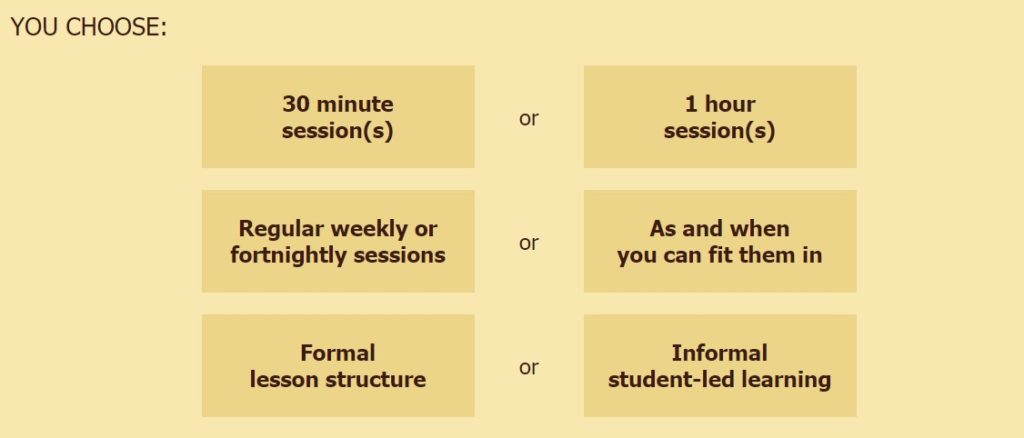 ---
Formal Lesson Structure
Formally structured lessons come in two forms, depending on whether you wish to learn a practical subject (such as how to play an instrument or how to sing), or if the lesson is paper-based:
Formal Instrumental Lessons
Warm-up exercises
Scales and Arpeggios
Review of previously learned pieces / techniques
New techniques and repertoire
Notation, theory and aural exercises
Sight-reading / sight-singing
Fun wildcard piece / exercise
Set practise schedule
Music Theory / 'Classroom' Music
Starter exercise – linked to lesson aim
Introduce lesson objective
Set exercises with model answers
Practical, task-based learning
Continuous Assessment for Learning
Difficulty & pace determined by student's progress
Plenary to check understanding
Setting of follow-up work
---
What will I need?
To get the most out of your instrumental lessons, you will need:
1. An instrument to practice on
You do not need to rush out and buy an expensive piano / guitar. But, you do need access to an instrument that you can practise on between lessons. I would advise you to hire or buy the best quality instrument within your budget – ask me for help with this BEFORE you buy!!
2. Tutor book / copies of music
There are many music tutor books available that cover a wide variety of styles and repertoire. Having many years experience working in (and shopping in!!!) music shops, I will guide you towards the right one for you. I'll occasionally supplement this with music I bring along to your lesson!
3. Time
Before you start lessons, decide what you want to achieve and how you're going to do it. Be realistic about the time you can spare to practise, and how much you can get done in that time. Remember: it's always better to do a very short practise every day than to try cram in a long one less frequently!
---
Music Exams
Examinations in music are not for everyone, but some people enjoy the challenge.
If you're the type of person who likes to set specific goals, and to receive official recognition of your ability to play at a certain level, then going through graded music exams might be the way for you. Equally, young people often want to do their grades to earn UCAS points with a view to widening their options when it comes to university applications.  I have experience in working with people on the following exams:
ABRSM: Piano, Singing and Classical Guitar grades.
Trinity: Piano and Singing grades.
Rockschool: Singing and Electric / Acoustic guitar grades.
GCSE and A Level Music
But, not everyone wants or needs to do exams in music.  I believe in supporting those who would like to work towards specific qualifications, whilst recognising that many people simply enjoy playing singing.  Either way is just fine by me.
---
Why not get in touch
about lessons for you or your child?
Contact Me: