Last week I received in the post my copy of the ABRSM syllabus for (classical) guitar – a little booklet outlining everything candidates and teachers need to know about guitar exams for this board from 2019 onward.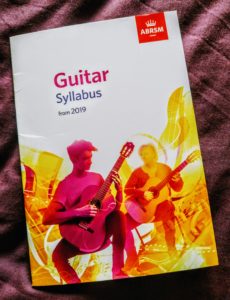 In truth, very little has changed on the guitar specification from previous years: all the exercises (scales, arpeggios etc.), sight reading and aural assessment requirements are exactly the same as before.  What has changed, though, are the lists of pieces and how you access them.
In the past it was necessary to buy at least a couple of books of repertoire in order to be able to sit the guitar exams because, unlike with the piano syllabus, no single publication included pieces from all 3 lists from which candidates are required to choose their exam pieces.  But, as of this year, ABRSM are publishing a single book per grade that includes three pieces from each of the three lists specified in the syllabus.  These are available from the ABRSM website and from other retailers such as Amazon, and can be purchased with or without audio recordings of each of the pieces included.
One other thing to mention about the ABRSM syllabus is its scope in terms of musical genre: as before, the list of pieces from which candidates must choose include mostly works from the classical and folk traditions, but there are more arrangements of popular songs and pieces from musical theatre in the lists for the earlier grades, albeit songs from the distant past.  Examples include:
Somethin' Stupid (made popular by Sinatra, then Robbie Williams & Nicole Kidman)
One Hand, One Heart (from West Side Story)
Here, There and Everywhere (The Beatles)
Over the Rainbow (from The Wizard of Oz)
Anything Goes (by Cole Porter)
And, it is now possible to perform some of these pieces (and those from other musical traditions) with a live guitar accompanist.  But, to be honest, if you or your child has come to guitar wanting to play pop, rock, jazz, blues and other popular music styles then ABRSM is probably not the exam board for them: you could look instead at Rockschool or Trinity.