As this Covid lockdown goes on, the weeks just seem to pass by! I can hardly believe that it's been 8 weeks now since my son, Robin, went to school. He's certainly missing the social aspects of school life, if not some of the lessons! And I'm sure that we adults are also missing lots of things about our 'normal' lives.. routines that have had to temporarily go on hold. But, for me, this is an opportunity to rethink how might conduct our lives in the future by being kinder to planet earth – less consumerism, less unnecessary travel etc etc. Here's hoping that the changes that are being forced upon us by this pandemic will end up being a force for positive long term change.
With this in mind, I think it's worth reiterating that I will continue to be teaching my lessons online only until scientists deem it safe for social distancing measures to be dropped. This means that all piano, guitar, uke and bass lessons are being conducted over Zoom, and singing lessons are going ahead 'by correspondence'. If you'd like any more information about this, just drop me a text on 07746 637472.
Furthermore, I think the current situation is showing us that staying largely at home needn't mean a drop in productivity: lots of people and their businesses are finding new ways to do things, and this includes me and my students. For example, I have one student who is currently stuck in China because there are no flights back to the UK until July, so we simply did her lesson over a Zoom video link.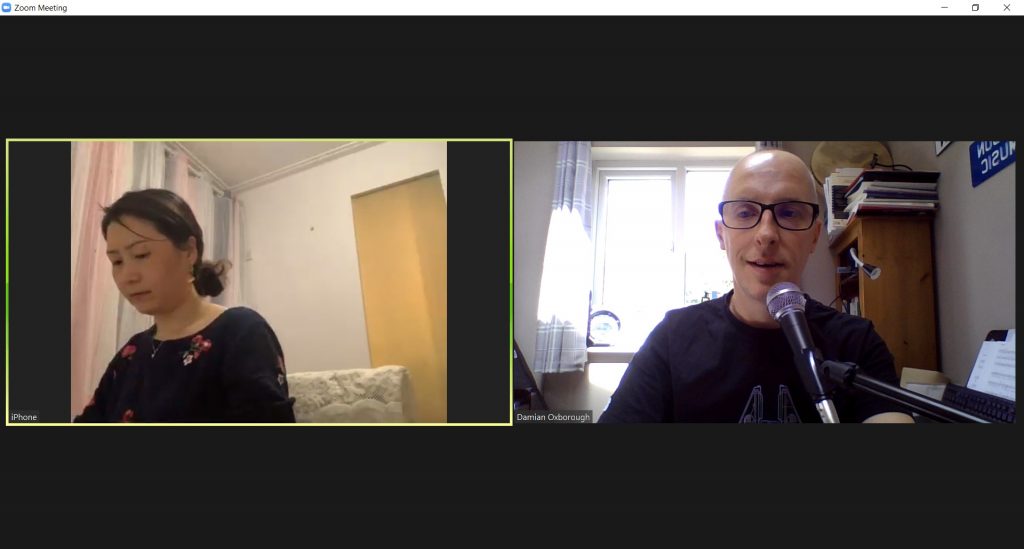 And, it was really fun – I had the song she was learning stuck my head for the rest of the day! What's more, we found that being over 5,000 miles a part makes little difference to the learning process now that we have the benefit of some amazing internet technology.
Likewise, the members of a local choir that I run, the Carleton Ladies Choir, have found that being separated is no real obstacle to making music together. I arranged for them all to sing along to some backing tracks that I made from my little music room, recording themselves as they went. Later I stitched the videos together using some more clever computer technology, and what came out is quite marvellous: we produced a really good rendition of Gary Barlow's song Yorkshire (from the musical Calendar Girls):
So, as you can see, so much can be done and achieved, even in these strange times when we're not permitted to be physically in the same room as one another!
Which brings me to the available lesson slots next week. Zoom lessons are becoming more and more popular, and so I am finding my availability is starting to dwindle. But, if you would like to start lessons with me, or resume from where you left off with your face-to-face lessons, have a look at the list of availability below and let me know if you would like to get booked in this week:
Wednesday 20th May
Thursday 21st May
Friday 22nd May