Hi students / parents.
It's now been six weeks since lockdown began in the UK, and all my face-to-face lessons were put on hold. And, I've got to say that I've really missed the routine interactions I had with my students before all this Covid thing kicked off – exchanging pleasantries and updates about what we'd each done over the past week or so, laughing and joking, and the odd bit of banter.. And, this is especially true of those people I haven't had any contact with since March. I think it really is true to say that you don't realise how much you'll miss something or someone until they're taken away.
So, I feel that now is the right time to reconnect with many of you, give you a bit of an update about what's been going on at my end and some idea of my plans for the coming weeks and months. With any luck, this will also be an opportunity for us to think about how we can resume some form of regular contact, as the country adjusts back out of this lockdown situation.
Ongoing Social Distancing – The Need for Change
I understand that there are lots of differing opinions about how our country should manage the Covid-19 pandemic, including views on when and how lockdown should be ended etc. For me, it's simple: I shall run my music tuition business in a way that minimises the risk to my students and their families.
With this in mind, I have a straightforward plan:
As long as lockdown continues, I will be providing online and correspondence lessons only, on a reduced timetable so that I also have time to home school my son (see below).
When schools and businesses reopen, I will open up more slots to accommodate the changing demands on people's time. I hope to be able to offer a full week of online slots for people to book into. I shall continue to offer Zoom / correspondence lessons only.
As long as 'social distancing' measures are in place (i.e. the government considers it necessary for people to stay a part from one another to avoid catching the Corona virus) I will keep my teaching exclusively online.
Only when social distancing measures are relaxed will I start to invite students back into my home to have face-to-face lessons.
I realise that some of my students will find it disappointing that they will potentially have to wait some considerable time to be able to return to their normal face-to-face lessons at my house. But, I feel that this policy is necessary to protect everyone's health and well-being. It also prompts me to suggest that we need to try to get used to the idea that life will not just switch back to the way that it was: we need to accept that things will be quite different for a while. And, as part of this, I hope that more of my students will embrace the idea of online lessons as lockdown measures are relaxed for businesses.
Online Lessons by Video Link (Zoom)
Since schools closed, I have been splitting my time between home schooling my son, Robin, and providing video lessons to those students who expressed an initial interest in this format. I've got to admit that I was initially a little bit sceptical about how video lessons would go, but I have been really pleasantly surprised: working with piano, guitar and ukulele students over Zoom has proved to be very similar to working with them face-to-face in my room.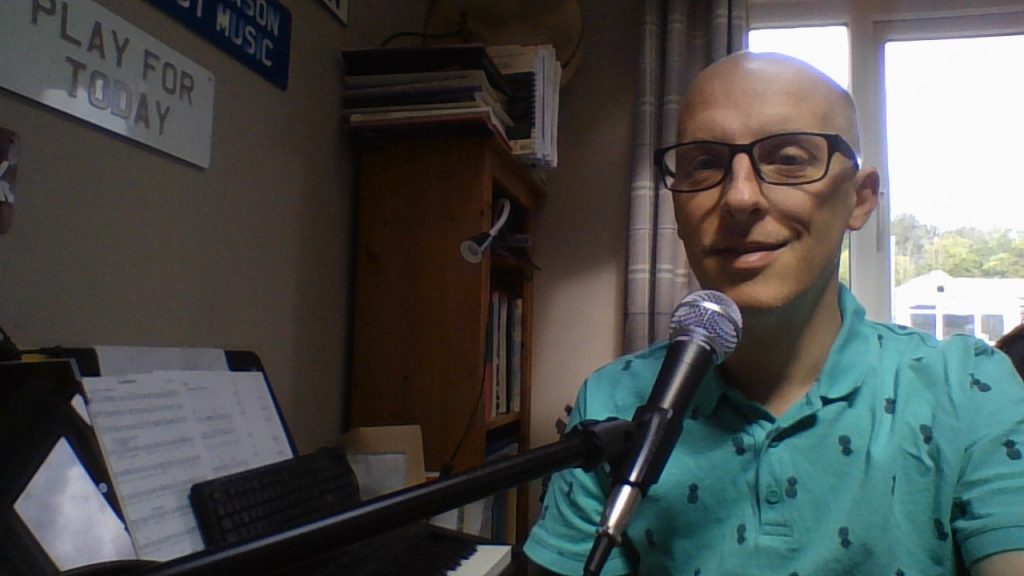 All the key features of instrumental lessons are unchanged over Zoom calls:
We can see and hear one another clearly
I can demonstrate sections by playing them to you
You can see my piano / guitar and hands where you need to
I can play extracts of music to you directly through the Zoom system
Using screen sharing, I can point things out on the written music score
Using email or Facebook Messenger, you can get your sheet music over to me quickly and easily so that I can properly assess how you're managing
Concerns some people have expressed about Zoom have often been to do with security. But, all my lessons come through the platform with all the security features switched on, including password requirements etc. This means that there is very little risk of being 'Zoom bombed' by hackers. Certainly, I have experienced no such problems since I started working over an internet link.
Lessons 'by Correspondence' for Singers
Teaching singers is a slightly different case because 95% of the time singers want or need some form of accompaniment. And, of course, I would usually provide this either by playing it myself or using some sort of backing track. However, the issue that arises here is the lag over the internet: if I play the accompaniment at my end for you to sing with, there's too much of a delay for both of us. It means that 'live' video link lessons are not really practical for singers.
Recently, though, I've come up with a solution – I have started working with my singers 'by correspondence'. What I mean by this is that:
I prepare everything you need to learn / practise a song, including the sheet music, backing tracks and guide vocals.
I email or FB Messenger is to you.
You work on the song in your own time, coming back to me with any questions or queries.
You record yourself singing along with the tracks I've sent to you.
I give you feedback, pointers based on the recording.
We eventually get a track of you singing it with the accompaniment in your headphones.
…. and, if you would like …. I put together a proper recording / video of your performance, should you wish to share it with friends and family.
By this 'correspondence' method, you get everything you need and full feedback etc, without having to attend a 'live' lesson. You will also end up with some recordings of yourself that you can be really proud of.
In terms of fees, the 30 / 60 mins lesson fees are mapped directly onto a one / two song exchange. In other words, if you previously had half hour lessons, for the same fee as one 30 min lesson I shall provide you with resources for one song, and then respond with feedback when you send your recordings back through the me. Hour long lessons translate into prep and feedback for two songs. I hope that my students will see that as fair, and an excellent opportunity to get singing again!
Increasing Lesson Availability
While the country is in lockdown, I will continue to work to a reduced timetable of lesson slots, with daytime lessons available 6 days a week, and evening slots on Wednesday evenings. As before, you can see by checking my blog at the beginning of the week the slots that are available for the coming seven days. Every Monday morning I publish a list here for you to check, then all you need to do is contact me by text to book your lesson in:
Once lockdown is over and people are getting back to school and work, I'll increase my availability accordingly. I hope to return to a nearly-normal teaching schedule, with students attending online lessons back-to-back through most days and some evenings. Again, you will be able to find out about available slots on the link above. Or, you might want to return to your pre-Covid regular slot, albeit via Zoom rather than in person. Because my service continues to offer maximum flexibility to students and parents, I'll speak to everyone individually and work on a person by person basis to figure out what's in everyone's best interests. If you can only do lessons at certain times because of work and childcare commitments, then I shall do my best to accommodate you.
Thank you
Finally, I'd like to say a big 'Thank You!' to my students / parents / families for being so patient. I really do appreciate your support and I look forward to seeing you all again as soon as it's safe to do so!