Every time I go to see a musical show, now matter what the genre, wherever it's playing, and whether or not the performers are professional or amateurs, I walk out of the experience a fuller person: enriched by the experience.  And, last night was no exception.
Steve Earle and The Dukes played Manchester's O2 Ritz as part of their world tour.  As the early-doors crowd were arriving and getting drinks, Steve came on to introduce his supporting act, The Mastersons.  It turns out that this duo would actually play the entire gig, making up part of Steve's backing band for the rest of the evening, but it was an absolute pleasure to first see them perform on their own. A husband and wife outfit, Chris Masterson's guitar playing was as understated as it was mesmerising (he later stunned the crowd with some virtuosic and stylish electric guitar soloing as part of The Dukes team), Eleanor Whitmore demonstrated outstanding musicianship on fiddle (and also dabbled in a bit of tenor guitar, mandolin and piano!), and together their voices blended wonderfully, always absolutely perfectly in tune with one another's every nuance.  Their overall sound was unmistakably 'American Country', while the tone of Chris' voice particularly gave them a more contemporary feel, along the lines of They Might Be Giants.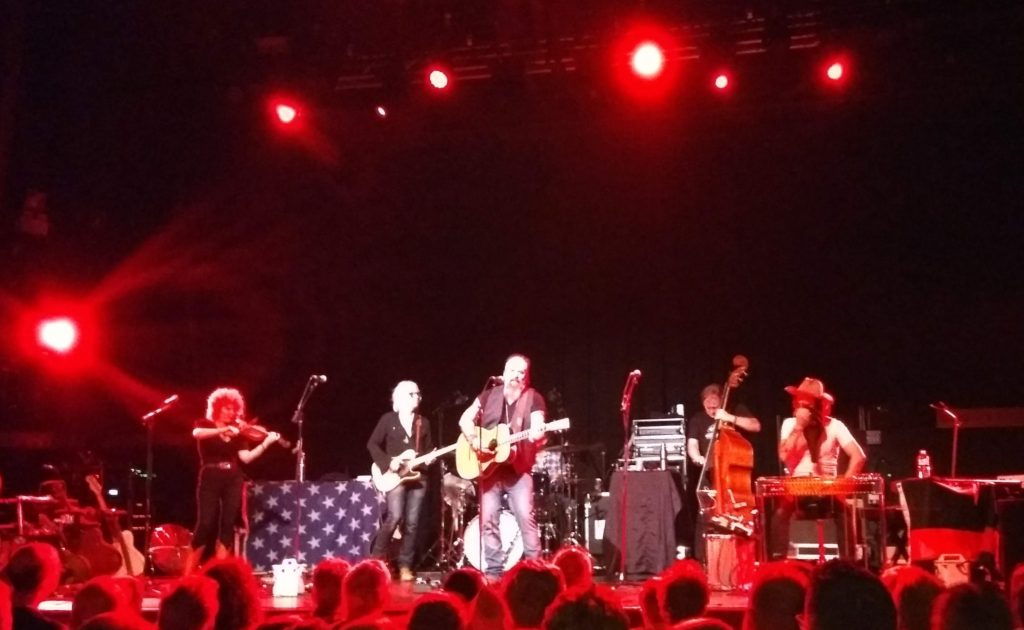 By the time Steve Earle and the Dukes were due to come on, the venue was packed with enthusiastic fans, and the air was hot and sticky.  When the lights did come up, the crowd were treated to the sound of Johnny Cash cranked up to full blast: this allowed time for the band to get on, and for Steve to segue straight into the first number.  I must admit that before yesterday evening I wasn't really very familiar with Steve Earle's music, but I'll certainly be looking him up and listening to his stuff regularly from now on.  On this occasion the band played all their 'biggest' tracks, much to the delight of the crowd, including Copperhead Road and The Galway Girl.  But, being new to his music, these were not the stand out song for me: I was totally taken on a journey with News from Colorado and Walkin' in LA, loved Steve's take on the Hendrix classic Hey Joe, and was moved by The Firebreak Line (which Steve dedicated to all those men and women firefighters who put their lives on the lines for us each day).
After playing for an hour and a half, the band finished up and headed back stage, only to be called back on by an audience still hungry to hear more.  Steve, Chris, Eleanor and the rest of the band then gave a rousing encore, but left the final song for Steve to perform alone.  For me, this was the highlight of the concert – Steve introduced the song by reflecting on his life and the state of politics at the moment, and went on to say that he wants his next record to speak not only to those of us who share his left-leaning views but, more importantly, to open a dialogue with those with whom he does not currently agree on subjects such as Trump's infamous wall at the Mexican border.  A truly moving moment.
There are four more tour dates in the UK: Belfast, Perth, Birmingham and London.  I'd strongly encourage anyone to go along to one of them if they can.  If you're anything like me, you'll walk out of the theatre a better, more inspired person than you were when you arrived.