Invite to Contribute to the CLC Advent Calendar
As Musical Director of Carleton Ladies Choir, I am organising a festive online event and I would be thrilled if you would participate. Through December I will be posting daily music videos on YouTube featuring choir members, their friends and families (and my friends and students). The idea is that viewers will be able to 'open' each day's advent calendar door and listen to one or more performance; watch homemade videos of their friends making music.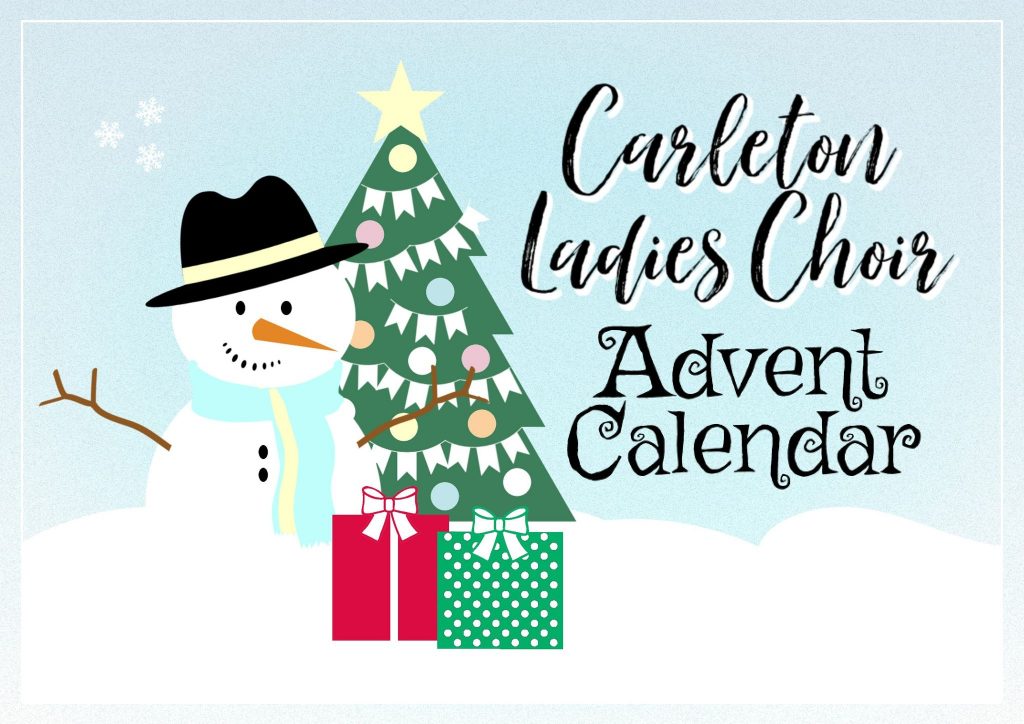 You can play, sing or read anything that you think people would enjoy listening to. It needn't be directly 'Christmassy', but you might like to think along the festive theme.
And, the whole venture will be in aid of UNICEF – viewers will be invited to make a donation via my JustGiving page: https://www.justgiving.com/fundraising/oxborough-paris
What you'll need to do:
Decide on a song / poem / reading that you'd like to contribute.
Let me know what it is and if you would like any support.

I can help by creating backing tracks.
If you would like to make your video recording with me, then you'll be welcome to come over to do that.
I can be on your video if you would feel happier.

Using a mobile phone, tablet or computer, video yourself playing, singing or reading.
Send the clip over to me using wetransfer.com
I will then add the cover page etc to the clip and prepare it to be published on the run-up to Christmas. I'll let you know when it's scheduled to go out so that your friends and family members can watch, and I'll also share it on all my social media profiles (Twitter, Facebook & Google).
Here's an example of a summer video I made in this style for you to get an idea of the sort of thing we're aiming for:
Your video needn't be 'perfect' – it's just about enjoying yourself, making some music for your loved ones to see, and making some much needed money for UNICEF. I really hope you feel able to participate!
Weekly list of slots
I've been taken by surprise just how many of my students have resumed their music lessons over the past week or so, either on Zoom or coming to visit me at home. I had half expected that the impact of lockdown would be long lasting and that I would have a prolonged quiet period as people take q while to feel more confident about going 'back to normal'. But, with the safety measures that I've put in place, such as providing hand sanitizer etc, most people who are able to have gone ahead and restarted their sessions. This means that my lesson slots are mostly all taken. However, there are a few spaces available at the beginning of the week, should you want to book in:
Monday 12th
Tuesday 13th
Wednesday 14th